Plan Your Next Vacation in the Schoodic Peninsula
About the Schoodic Peninsula
Visit the Schoodic Peninsula and Acadia National Park for your next Maine vacation. Located near the towns of Bar Harbor and Ellsworth, the Schoodic area of Downeast Maine consists of the towns of Winter Harbor, Gouldsboro, Sullivan, Sorrento, and Franklin.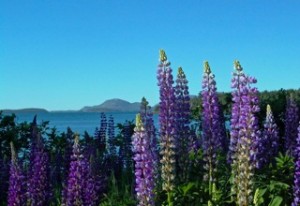 A coastal Maine vacation includes a visit to Schoodic Point in the Schoodic section of Acadia National Park where you can get up close to the crashing surf of the rocky coast. Enjoy hiking the trails in Acadia, sea kayaking and sailing in Frenchman's Bay, biking, bird watching, golf, and cross country skiing.
A vibrant art culture, including galleries, studios, and shops, can be found in the quaint fishing villages of Corea, Bunkers Wharf, Prospect Harbor, and downtown Winter Harbor. Schoodic Arts for All, located in historic Hammond Hall in Winter Harbor, hosts art exhibits, concerts, and performances throughout the year.
The Winter Harbor Lobster Festival, held on the second Saturday in August, is a widely known celebration and one of the largest lobster festivals in Maine. Visiting Schoodic during the lobster festival makes a great family vacation.
Lodging in the Schoodic area is available at the many bed and breakfasts, cottage rentals, cabins, and campgrounds.
The Schoodic Scenic Byway, part of the nationally recognized Scenic Byways Program, is 27 miles long and weaves through the Schoodic region and into the Schoodic section of Acadia National Park. The scenery is outstanding and unspoiled, including reversing falls, views of the ocean and mountains, lobster boats, lighthouses, and islands off in the distance.
Travel through our small villages and towns of Sullivan, Gouldsboro, Winter Harbor, Birch Harbor, and Prospect Harbor. Artists' studios and downtown shops are located the length of the Scenic Byway, and visitors are welcome to explore and search out unique Maine gifts.